Home » News »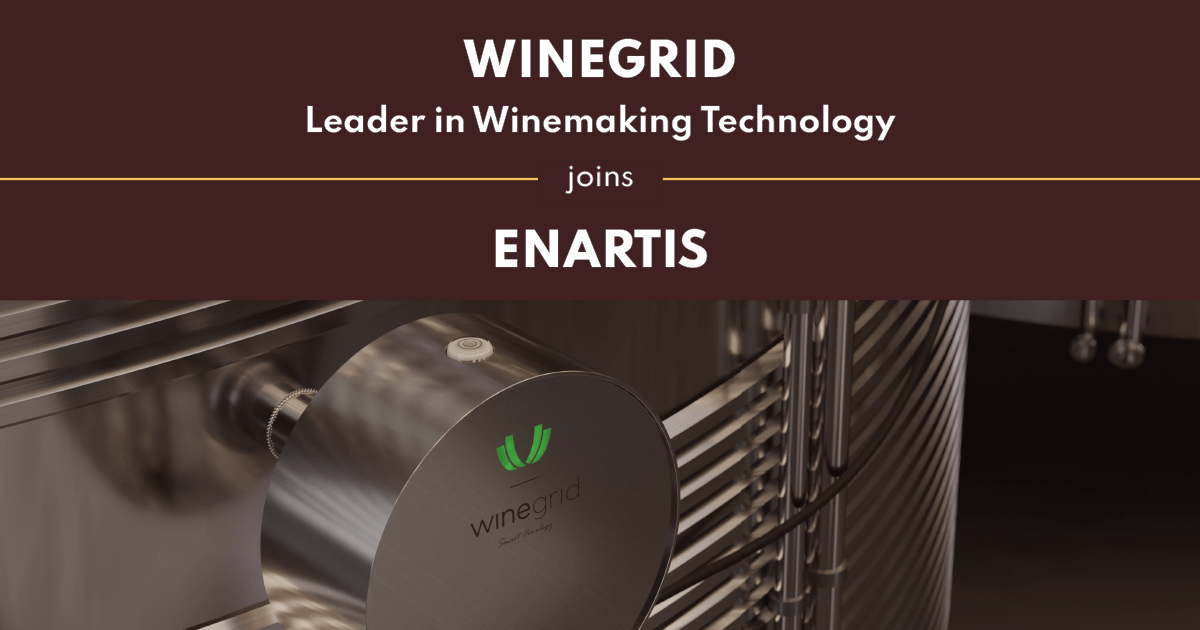 WINEGRID, the Portuguese company specialized in innovative technological solutions for precision winemaking, announces its acquisition by Enartis, the Italian multinational of the Esseco Group, which has a global presence in more than 50 countries.
This union is a significant milestone for WINEGRID, propelling it to the forefront of innovation in the wine sector.
WINEGRID gains access to Enartis' vast experience and global reach, opening the way for faster growth and international expansion. Enartis, in turn, benefits from WINEGRID's innovative technology, further strengthening its position as a leading provider of solutions that enhance the quality and efficiency of winery operations.
WINEGRID is a leading provider of innovative solutions for digitalizing winemaking: from the grape to the bottle. WINEGRID's patented real-time and remote monitoring technology enables a proactive and predictive approach to the winemaking process with state-of-the-art precision. Based on innovative sensors, advanced algorithms, and AI, WINEGRID systems contribute to increasing productivity and efficiency, reducing costs, and enhancing oenological decision-making, being already used by renowned wine producers all over the world.
Enartis is a multinational alcoholic beverage industry company offering innovative products, cutting-edge technology, technical support, and attentive and consistent customer service. With more than 230 employees and a network of branches strategically located around the world, Enartis provides global coverage and tailors its offerings to the specifics of each market. Constant commitment to research and development and a focus on sustainability enable Enartis to guarantee safe and reliable service, offering solutions that increase the quality and efficiency of production processes for companies and wineries.
| | |
| --- | --- |
| "Enartis represents an opportunity for WINEGRID to gain direct access to the wine production sector globally, due to the seamless integration of expertise between the two worlds, which are naturally complementary: together we listen to the voice of winemakers and provide the answer to their needs," said Rogério Nogueira, cofounder and CEO of WINEGRID. | |
| | |
| --- | --- |
| "This is an important milestone to accelerate the adoption of our technology to extract the full potential of harvest for more winemakers", confirmed Lúcia Bilro, cofounder and CTO of WINEGRID. | |
With its cutting-edge approach to winemaking, WINEGRID combines state-of-the-art technology with traditional oenological knowledge, designing the wine sector of the future to create high-quality wines, increase the competitiveness and efficiency of wineries, while constantly respecting and reinforcing the identity of wine.
| | |
| --- | --- |
| | According to Samuele Benelli, General Manager of Enartis, "This is a milestone in the evolution of Enartis, allowing the company to consolidate its position globally in the wine industry, offering its customers an even more comprehensive and innovative integrated range of products and services. |
| | |
| --- | --- |
| | "In line with Enartis' goal of bringing "smart winemaking" to support wineries around the world, WINEGRID technology will enable producers to increase the efficiency of their wineries. Additionally, the AI software will enable them to perform predictive analysis of their production, minimizing the need for product sampling and analysis during the winemaking process", said Piermario Ticozzelli, Strategic Business Director of Enartis. |
The acquisition of WINEGRID by Enartis is a positive development for the wine sector. The combined expertise and resources of these two companies have huge potential to drive innovation and empower wine producers to raise the quality and efficiency of their products.
WINEGRID's acquisition by Enartis on the news:
Spanish: Vinetur, La Prensa del Rioja, La Semana Vitivinícola, TyN, TecnoVino, Interempresas, Alimarket, Redacción, Más Producción
Italian: Deal Flower, Tecnelab, Italia Economy
English: Tech.eu, Wine Business, Wine Industry Advisor, Wine Industry Network, Food and Drink Technology, IT News Africa
Portuguese: Vida Rural, Voz do Campo, Hipersuper
(EN content only)